Regular Cleaning: Regular cleaning is essential to keep the cabinet looking its best. Wipe the cabinet surfaces, including doors, drawers, and handles, with a soft cloth or sponge and a mild, non-abrasive cleaner. Avoid using harsh chemicals or abrasive cleaners that can damage the finish or wood.
Dusting: Dust the cabinet regularly to prevent the buildup of dirt and debris. Use a soft cloth or a duster to gently remove dust from the surfaces, corners, and crevices of the cabinet.
Avoid Excessive Moisture: Traditional bathroom cabinets are typically made of wood, which can be sensitive to moisture. Avoid excessive exposure to water and moisture, such as from splashing or steam from showers. Wipe up any water spills or splashes immediately to prevent water damage.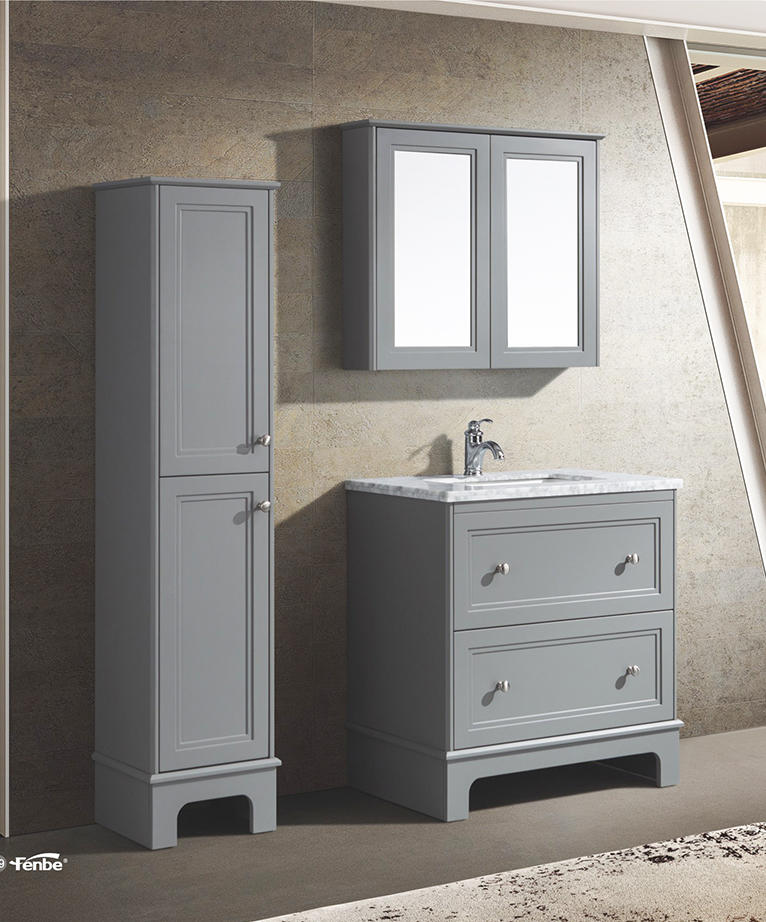 Use Protective Coatings: Apply a protective coating or wax to the cabinet surfaces periodically to maintain the wood's finish and protect it from moisture, stains, and scratches. Follow the manufacturer's instructions for the specific type of coating or wax recommended for your cabinet.
Handle with Care: Be mindful when opening and closing cabinet doors and drawers to prevent undue stress on the hinges and hardware. Avoid slamming the doors or putting excessive weight on them, as this can cause damage over time.
Preventive Measures: Use mats or coasters to protect the cabinet surface from items that could scratch or stain it, such as hot styling tools, cosmetics, or toiletries. Consider placing a tray or organizer inside the cabinet to keep items organized and prevent spills or leaks from directly contacting the cabinet.
Inspect and Repair: Periodically inspect the cabinet for any signs of damage, such as loose hinges, handles, or cracks in the wood. Address any issues promptly to prevent further damage and ensure the cabinet remains functional and visually appealing.
Avoid Direct Sunlight: If your traditional bathroom cabinet is exposed to direct sunlight, consider using curtains or blinds to limit the amount of UV radiation reaching the cabinet. Prolonged exposure to sunlight can cause the wood to fade or discolor over time.
Professional Maintenance: If you notice significant damage or wear and tear that you are unable to address on your own, consider seeking professional help for repairs or refinishing to restore the cabinet's original beauty.
By following these care and maintenance tips, you can preserve the beauty and functionality of your traditional bathroom cabinet for years to come.